A play with Songs. Full Length in One Act. 1M (20s), 2W (20s), 3W (40s-50s). Fluid, Open Space.
Synopsis
A play with original songs set in a primeval landscape of swamp and burnt-out woods. The death of a young soldier (killed in a recent war) sends his widow, and a community of women left behind, on a journey where the soldier's ghost, fried chicken and other mysteries of spirit and nature come together in a search for pure grace.
Winner of the Rosenthal New Play Prize
Northwestern University's Spectrum Theatre Company (2015)
Ball State University, College of Fine Arts, Department of Theatre and Dance (2006) dir Wendy Mortimer
Northwestern University Dept of Theatre, IL (2005) dir Joanie Schultz
The Bug Theatre, Co (2003) dir Donna Morrison
Hackney Empire Studio Theatre, London (1999) dir Dina Elisa Ibrahim
Repertorio Espanol, NY (author translation premiere: 1998) dir Michael John Garces
Frank Theatre, Minneapolis, MN (1997) dir Wendy Knox
Northern Light Theatre International Play Festival, Alberta, Canada (1997)
Bridge Theatre, Miami, FL (1996)
Royal Court Theatre New American Play Festival, UK (1994) dir Annie Castledine
Cincinnati Playhouse in the Park, OH (world premiere, 1994) dir Lisa Peterson
and productions at: Ithaca College, College of William and Mary, Towson University, Western Washington University, Ohio State University, University of Washington-Seattle, Ball State University and National Theatre Institute, Romania
Developed at ASK Theatre Projects, CA and Playwrights Center's PlayLabs
Published by TCG in Out of the Fringe: Contemporary Latina/o Theatre and Preformance.
Quotes:
"In Alchemy of Desire/Dead-Man's Blues, Svich incorporates the sounds of the blues in the South as much as cadences, rhythm, and tone of southern speech. Although the women's voices have the function of a Greek chorus, their speech  patterns and singing carry the traces of ancestral sounds displaced by the Middle Passage and transformed by their multiple contacts" ~Lillian Manzor on Caridad Svich in Oxford Encyclopedia of Latinos and Latinas in the United States. Volume 1. Oxford and New York: Oxford University Press, 2005 (185-6)
"Her writing is often beautifully economical and evocative, reminiscent of William Faulkner's short stories." ~TimeOut London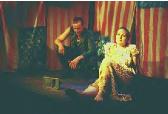 "The play's main strength lies in its ability to fuse natural, often quite beautiful poetic language with images taken from popular American culture…It is a rich and provocative piece of theatre that deserves to be seen elsewhere." ~Variety
"Svich's subject is grief and healing, and the balm she offers audiences is a dark, spooky, earth-bound alternative religion." ~American Theatre
"A wonderful treathment of the often avoided subject of grief. Marvelous uplifting writing." Helen Bamber -OBE