a play by Caridad Svich
"ARCHIPELAGO is a thing of relentless beauty.
it aches and glistens like a body from water. it echoes Beckett yet lives without shadow.
It is poetic, dense and utterly fulfilling." – Stephen Wrentmore, director
Cast breakdown: two actors in their 30s-40s, any gender. (characters in text are referred to as he and she, and later, as Ben and Hana, but author does not require male and female actor for the piece.) Setting: Open, fluid space. Running time: about 90 minutes.
Script History:
Archipelago received world premiere at the Lighthouse, Poole's Centre for the Arts in Dorset, England in November 24-December 3, 2016 under artistic producer Stephen Wrentmore's direction as the first Sherling Studio production at the Lighthouse. The cast was comprised of Nathan Ives-Moiba and Lisa Caruccio Came. Scenic & costume design by Yoon Bae, Lighting by Ace McCarron, Film by Desperate Optimists, Music and sound design by Karen Wimhurst. Casting Director – Vicky Richardson, Production Manager – Libby Battaglia. The production was made possible with seed money from Black Theatre Live. Photography by Richard Budd Photography.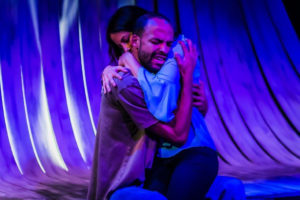 Reviews and articles from the UK premiere:
Archipelago, Sherling Studio, Poole Lighthouse
Archipelago: The Sherling Studio, Lighthouse, Poole
Relationship drama Archipelago launches Lighthouse's new Sherling Studio
Development History: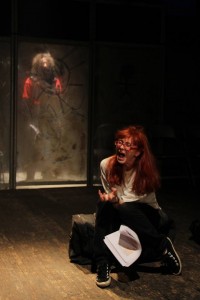 The piece also was selected and presented (in Russian translation) as part of the New American Writers Festival at the Ilkhom Theatre in Tashkent, Uzbekistan on April 29, 2014 under the direction of its artistic director Boris Gafurov.
Photos from the workshop at the Ilkhom Theatre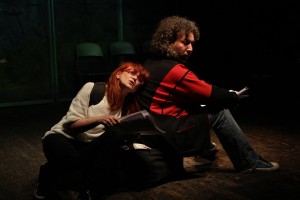 Archipelago has received readings at Arizona Theatre Company's Café Bohemia Series (October 11 and 12, 2014) under Stephen Wrentmore's direction. Arizona Theatre Company Kicks Off Cafe Bohemia With 'Archipelago'
It also received readings in partnership with NoPassport theatre alliance's 2014 30/30 US Latin@ National Reading Festival with Cara Mia Theatre in Dallas, Texas; eSe Teatro @ A Contemporary Theatre in Seattle, Washington; and Sankofa Theatre in collaboration with Teatro Vista in Chicago, Illinois.
The piece also received early readings at the Lark Play Development Center and Primary Stages in New York City in spring 2013.
The play was nominee for The Kilroy's 2014 THE LIST of Best New Plays
Publication: Archipelago was published in the industry-only, subscriber-based e-periodical StageReads edited by Meredith Lynsey Schade with an introduction by Stephen Wrentmore and an afterword by Joy Tomasko.