GUAPA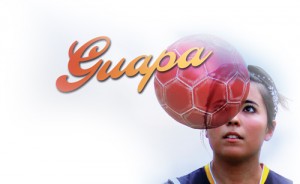 a new play in English by Caridad Svich
Full-length in two acts. Cast: 3 women (1 40s, 2 early 20s), 2 men (both in their early 20s). Setting: two-location unit set. Some video and projection required.
Synopsis: Single-mom Roly lives in a dusty Texas border town that everyone longs to escape. She's never seen anything like Guapa, a natural-born athlete with a fiery ambition to become an international soccer star. When Guapa joins Roly's family, everyone's life is turned upside down. With only one shot to reach the big leagues from the barrio, how can Guapa convince the non-believers to let go of their doubts, spread their wings and fly? This inspiring story will have you cheering in the aisles!

NNPN Rolling World Premiere: GUAPA is the recipient of a National New Play Network rolling world premiere for the 2012-2013 theatre season. Its first production will be at Borderlands Theatre in Tucson, Arizona in October 2012 directed by Barclay Goldsmith, followed by production at Phoenix Theatre in Indiana in January 2013 and production at Miracle Theatre Group in Portland, Oregon in March-April 2013 directed by Olga Sanchez.
Script History: GUAPA was developed at the Lark Play Development Center in New York City in a roundtable reading directed by Jose Zayas and at a NoPassport theatre alliance reading at Repertorio Espanol in New York City, also directed by Jose Zayas. It received a staged reading/workshop as part of the 2012 Teatro Vivo Latino New Play Festival in Austin, Texas in association with ScriptWorks.
Dramaturg for GUAPA's script history and NNPN premiere: Heather Helinsky.
Notes from the Director of GUAPA by Olga Sanchez
Buy a preview edition of the script.
2012 Edgerton New Play Award listing for GUAPA on TCG
Radio interview on KBOO in Portland, OR
Press about GUAPA during its script history:
Interview with the author by Martha Wade Steketee in the theatre blog Urban Excavations:
 Playing for soccer, family, hope, Arizona Daily Star, October 4, 2012.
'Guapa ' takes on a young Hispanic female athlete's aspirations. Indianapolis Star, January 2, 2013.
Review: Phoenix Theatre's "Guapa", Indianapolis Business Journal, January 9, 2013.
Articles about the play during its Teatro Vivo Latino New Play Festival in Austin, Texas, 2012.
http://www.austin360.com/arts/festival-puts-spotlight-on-new-latino-playwrights-2274124.html?cxtype=rss_a-list_123074#.T3h-Wt_1tOU.email
http://www.austinchronicle.com/arts/2012-04-06/latino-new-play-festival/