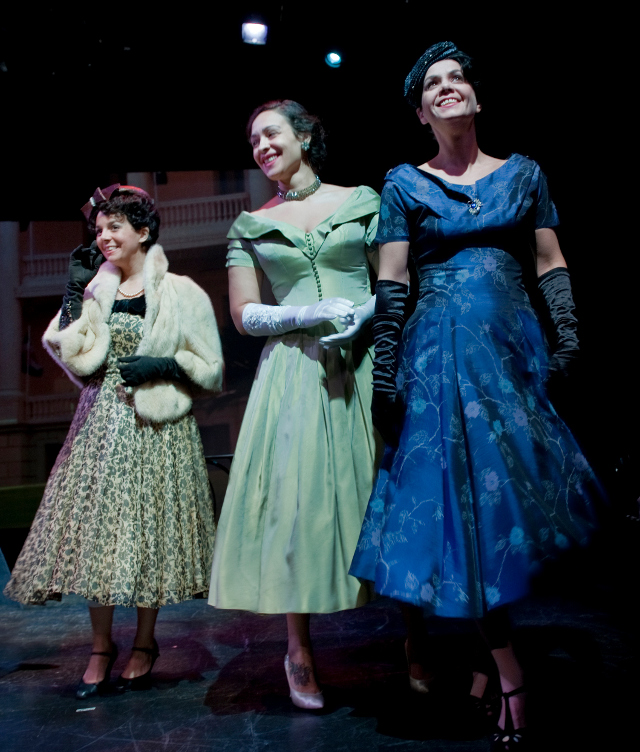 A new play by Caridad Svich based on Julia Alvarez's novel
Directed by José Zayas
"Caridad Svich has made my book spring to life on stage."
~author Julia Alvarez, quoted in HOY Digital
With immersive video and animation dispersed across the stage, the piece paints a visual dreamscape of the interior lives of the activist sisters, the beauty and ferocity of the natural world, and the music heard on the radio of the time. .  Based on Julia Álvarez's popular novel, "In The Time of the Butterflies," is a fictionalized account of the story of the courageous Mirabal sisters from the Dominican Republic. The sisters inspired resistance cells throughout the country against the dictatorial regime of Gen. Rafael Leónidas Trujillo. The 'butterflies', their secret code name, were brutally murdered by the regime in 1960.
Full-length in two acts.

Cast: 6 women, one male, Running time: 100 minutes.
Press Quotes:
"[Critics pick!] Svich's play largely does justice to his story of injustice. An inventive production."
Backstage.com
"Svich undertook the challenge of translating Alvarez's three-hundred page, polyphonic work into a 100-minute play with respectful independence from the original; the result is an artistic success, a major dramatic accomplishment that turns the theatrical version into the natural and inevitable complement to the novel. From the Bergman-esque opening scene of the four youthful sisters chasing butterflies in their garden to the grim finale, decades later, in that same garden, the play unfolds in a crescendo of anticipated tension punctuated by bursts of joy, tenderness, and humor (with no intermission, the two acts flow seamlessly). But what prevents En el tiempo de las mariposas from being yet another Brecht-like exercise in declamatory politics an exercise too often abused in New York Latino theater is the fact that it is also, and essentially, a play about human relations: the loving but conflicting relationship among sisters; the relationship between women and men (between daughters and father, wives and husbands, even between landladies and employees); and the infamously perverted relationship between Trujillo and his own people." ~Claudio Remeseira, Hispanic New York
Photos from Uruguay 2012 premiere of BUTTERFLIES
Feature Articles, Reviews and interviews: