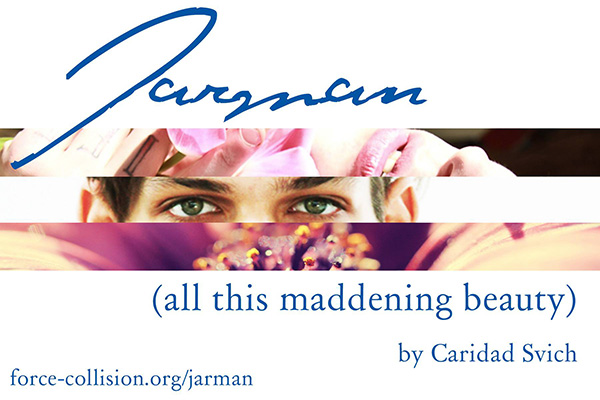 A play by Caridad Svich Produced by force/collision Directed by John Moletress It was a scandal, a glorious scandal But to me it was church. Jarman (all this maddening beauty) is an original, solo performance work inspired by avant-garde, queer filmmaker Derek Jarman. Stunning poetry, lush new music and an imagistic multimedia landscape combine to create a theatrical event which searches for the meaning of beauty and art. This exciting project marks a continuing collaboration between the bold, unique performance ensemble force/collision and award-winning playwright Caridad Svich. In Svich's words, Jarman will look at how the spectre of illness affects the making of art and what has changed in cultural, transatlantic perceptions of queer artistry since Jarman's time.
"In performance, John Moletress is a powerhouse. Even through the mediated experience of JARMAN (all this maddening beauty) his capacities have visceral impact…"   –Daniel Alexander Jones, Artist

"Caridad Svich's JARMAN (all this maddening beauty), directed by and starring John Moletress, is a mesmerizing journey through the sublime essence of the legendary filmmaker. Evocative poetics, arresting visuals, political provocation, and a genderfuck bunny, make for an experience of rare fascination."  –Curran Nault, Artistic Director, OUTsider

"The ambiguity of Jarman, however, can be seen as one of its strong points. In some ways, the performance is a meditation on what it means to be an artist in our culture." –Dana Sayre, Journalist, The Horn

"The play is a reminder of Jarman's unique cinematic ability and voice." –Andrew Millar, Journalist, Nerve

"Caridad Svich's JARMAN (all this maddening beauty) is pure poetry.  The language and images are lush; the subject provocative and political.  It all adds up to a sensuous performance that is poetry in motion."  –Deborah Brevoort (playwright)
Dossier for the project at: http://force-collision.org/first-glimpse-scenic-model-for-jarman-all-this-maddening-beauty/ Stories and Reviews To Create a New Kind of Flower, by Duska Radosavljevic, Exunt Magazine, October 23, 2014 force/collision's staged tribute to gay filmmaker Derek Jarman, by Christopher Henley, DC Theatre Scene, April 24, 2014 JARMAN (all this maddening beauty): An Interview With John Moletress and Caridad Svich, by Jody Christopherson, Huffington Post, April 14, 2014 Maddening Beauty – In Progress,  by Jamila Reddy, Theatre Washington, April 24, 2014 A Report on 'Jarman (all this maddening beauty)' at force/collision, by John Stoltenberg, DC Metro Theatre Arts, April 19, 2014 Video trailer Video credits: Filmed by Ben Carver. Performer in video: Stephen Benedicto. JARMAN promo scene featuring PUSSY NOIR from Ben Carver on Vimeo. Jarman (all this maddening beauty): Selected Scenes from Workshop Performance from force/collision on Vimeo.

Timeline for the project: Workshop production: April 17-27, 2014 at Atlas Performing Arts Center in Washington D.C. May 2014-onwards: available for bookings and touring. Contact: john@force-collision.org and csvich21@caridadsvich.com