by Caridad Svich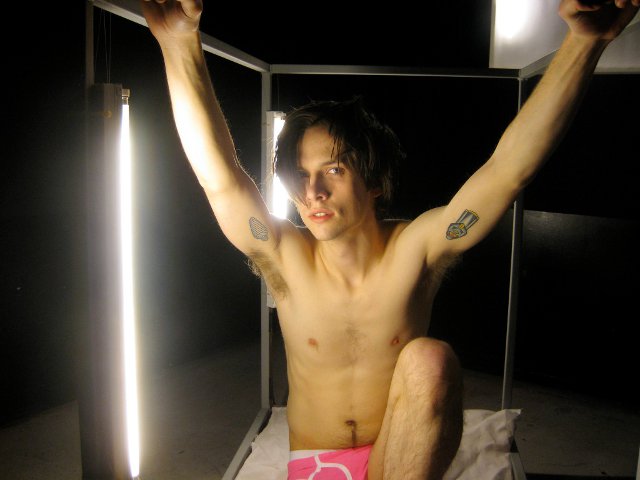 Lizzie B makes shock art.  Arden buys beautiful things.  A young man wants to be famous. In a modern world addicted to sex, drugs, fashion and celebrity, three friends make a pactthat will change their lives. Magnificent Waste explores America's appetite forexcess and presents an unsettling portrait of its own undoing; a glittering but brutalexploration of modern society's superficiality and the objectification of the human body.
Full-length in two acts with no intermission.
Cast: 2 women, 3 men. And a Chorus of (pre-recorded) Voices.
Running time: 75-85 minutes.
Script History:
Magnificent Waste was developed at Hedgebrook Retreat/Women'sPlaywrights Festival/WA, New Dramatists/NY, HotInk International Festival @ NYU,Tribeca Film Institute All Access Open Stage Program, and the 2010 Kennedy Center Pageto Stage Festival.
It received, in early version of the script, a National Latino Playwriting Award fromArizona Theatre Company (2003): an award based solely on the merit of the writing.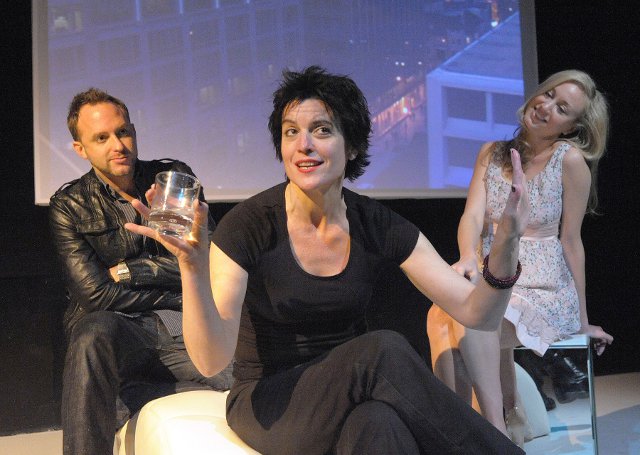 Magnificent Waste received its world premiere in a production from Factory 449: a theatrecollective, with support from Cultural Development Corporation and Creative CommunitiesFund, at Flashpoint Arts Center Mead Theatre Lab in Washington, D.C. in April 2011 underthe direction of John Moletress. The cast, design and production team was as follows: LisaHodsoll (Lizzie B), Stephen F. Schmidt (Arden), Tony Villa (Bret Carver), Sarah Strasser(Mindy Darling), James T. Majewski (Young Man). The Producer was Rick Hammerly* &Factory 449: a theatre collective; Video Design: Jesse Achtenberg, Set/Lighting Design: Andrea Crnkovik, Sound Design: David Lamont Wilson, Costume Design: Scott Hammar,Assistant Director: Ali Walton, Stage Manager: Debbi Arseneaux. www.factory449.com
Press Quotes:
"Svich displays a real gift for language and imagery. It's a difficult play…full of promise anda sincere desire to engage and confront the audience." Ian Buckwalter, DCist.com
"An in-your-face spectacle whose strong acting performances and extensive use ofmultimedia leave you wondering how 75 minutes passed that quickly. A biting criticism of asuperficial society that thrives on excess and pleasure. The play has a fast-paced plot, smartwriting and plenty of aural and visual stimulation. Svich's work is known for its explorationof identity construction and for utilizing the full range of emotions. It's a rollercoaster of ashow." Sam Blodgett, Brightest Young Things (DC)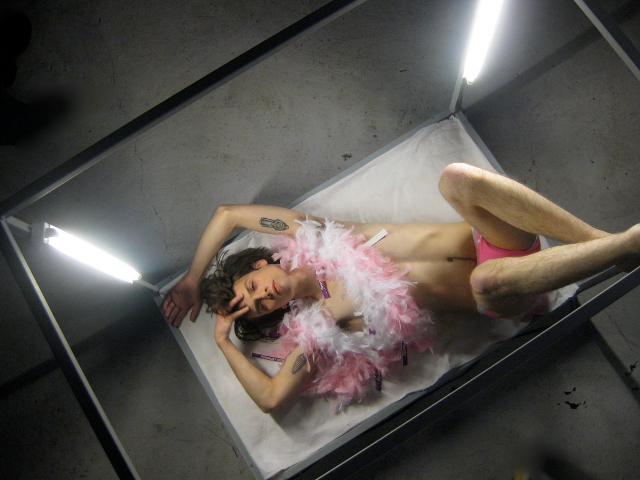 'Svich is at her best when examining a timeless topic in art: The Gaze." TBD.com
Review Links:
But Is He Art?: Factory 449's Magnificent Waste. By Ian Buckwalter. The DCist.  April 21, 2011
PLAYDC: MAGNIFICENT WASTE @ Flashpoint.  by Sam Blodgett. The Brightest Young Things.  April 21, 2011
DC Theatre Review: Caridad Svich's "Magnificent Waste".  The New Gay.  April 18, 2011
'Art,' the 'Magnificent Waste' of money? These playwrights think so.  By Maura Judkis.  TBD Arts. April 18, 2011
FACTORY 449 – – "Magnificent Waste".  By Rich Massabny.  April 20, 2011
Related articles:
The Artist as a Young Twerp: 'Magnificent Waste,' Flashpoint's Mead Theatre Lab. By Fiona Zublin.  Express Night Out.  April 21, 2011
Factory 449's 'Magnificent Waste' vs. the 'hamster' bubble. Maura Judkis.  TBD Arts.  May 19, 2011
Actor who played boy in glass box sympathizes with 'hamster' bubble artist. Maura Judkis.  TBD Arts.  May 20, 2011

WETA Around Town takes a look at the play Factory 449's Magnificent Waste.

Watch the full episode. See more WETA Around Town.