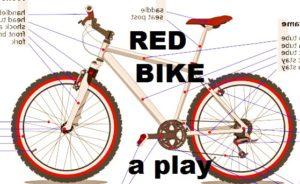 Cast: A play for one, two, or more performers.
Running time: about 85 minutes.
What kind of future will you have living in these here United States?
Remember when you were eleven years old and you had a bike, one that made you dream about a world bigger than the one in which you live? This is that memory. Except it is now.
Script Production History
This play is the recipient of a 2018 into 2019 National New Play Network Rolling World Premiere with Pygmalion Theatre Company (Salt Lake City, Utah), Simpatico Theatre (Philadelphia, PA), Know Theatre (Cincinnati, Ohio), and The Wilbury Group (Providence, Rhode Island).
RED BIKE is the first in a cycle of plays which includes FUEL, Hurt Song, Holler Riverand Trouble in Kind.
RED BIKE at Know Theatre, Cincinnati, Ohio
January 11-February 2, 2019
https:/knowtheatre.com/season-21/redbike
RED BIKE at The Wilbury Theatre Group, Providence, RI
February 21-March 3, 2019
http://thewilburygroup.org/red-bike-premiere.html
Development History
In the US, this script was developed at the Lark and New Dramatists, both in New York City under the direction of Emily Mendelsohn. In the UK, this script received a reading in June 2017 produced by Chaskis Theatre as a benefit for children arts charity Anno's Africa at the Cervantes theatre in London under the direction of Simon Evans with associate direction by Huw Parmenter and Raymi Quiroga. The script was also presented at the 2017 NNPN National Showcase of New Plays at Orlando Shakespeare, and at Jackalope Theatre in Chicago in May 2018 under the direction of Lisa Portes, and at Flint Youth Theatre in Michigan in January 2018 under Kathleen Walshe's direction. Performers that have been part of the play's history have included Jocelyn Kuritsky, Sofia Jean Gomez, Maddy Hill, and Aaron Anthony. RED BIKE was an Honorable Mention in the 2017 Kilroys List.
Script Perusal
The script is available for perusal on the New Play Exchange at https://newplayexchange.org/plays/90847/red-bike
About RED BIKE
Jenifer Moore's review in the League of Cincinnati Theatre:
http://leagueofcincytheatres.info/?p=1735
Liz Eichler's review in the League of Cincinnati Theatre:
http://leagueofcincytheatres.info/?p=1729
Rick Pender's review Poetic Red Bike pedals through childhood in City Beat:
https://www.citybeat.com/arts-culture/theater/article
Cincinnati Enquirer "allow yourself to be swept away":
https://www.cincinnati.com/story/entertainment/theater/2019/01/12/red-bike-know-theatre-review/2558061002
Broadway World on the play's premiere in Cincinnati at Know Theatre:
https://www.broadwayworld.com/cincinnati/article/Know-Theatre-Presents-National-New-Play-Network-Rolling-World-Premiere-of-RED-BIKE-20181213
Broadway World: https://www.broadwayworld.com/new-jersey/article/Announcing-The-80th-NNPN-Rolling-World-Premiere-RED-BIKE-By-Caridad-Svich-20180403
Broadway World: https://www.broadwayworld.com/philadelphia/article/Obie-Winning-Author-Caridad-Svichs-RED-BIKE-Will-Have-Philly-Premiere-With-Simpatico-Theatre-20180320
Theatre Times: "Taking a Ride on a Red Bike" https://thetheatretimes.com/taking-ride-red-bike/
The Lark blog:"Fuel the Hurt n Holler the Trouble on a Red Bike" essay about the Red Bike cycle of plays:https://www.larktheatre.org/blog/fuel-hurt-n-holler-trouble-red-bike/
The Lark blog: "Riding Uphill on a Red Bike" is live as the closing reflection in the Stages of Resistance series, hosted by The Lark Theatre. http://larktheatre.org/blog/riding-uphill-red-bike/
Essay about RED BIKE. FUEL and the new play cycle:
https://www.larktheatre.org/blog/fuel-hurt-n-holler-trouble-red-bike/
Promo trailer for RED BIKE from the June 2017 workshop with Chaskis Theatre in London featuring actor Maddy Hill:
https://www.facebook.com/chaskistheatre/videos/1378345315535527/
Production photos from the Pygmalion Theatre Company production April 2018:
https://bethbruner.smugmug.com/organize/Theater/PYGmalion/The-Red-Bike-PYGmalion-April-2018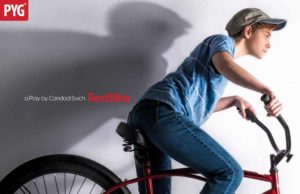 Let's Go Eat podcast interview (one hour) for the 2018 Salt Lake City premiere:
http://theletsgoeatshow.com/2018/04/22/caridad-svich/
American Theatre magazine The Subtext podcast interview with Svich on RED BIKE and more: https://www.americantheatre.org/2018/06/12/the-subtext-caridad-svich/
Circle Up! podcast/interview with Svich in Chicago on RED BIKE and more with Jackalope Theatre and the Chicago Inclusion project: https://soundcloud.com/circle-up-podcast/caridad-svich-red-bike/s-TSQJm
Playwrights Podcast NYC interview with Svich on RED BIKE and playwriting: http://playwrighttoplaywright.libsyn.com/episode-10-caridad-svich
Philadelphia Enquirer preview article on Svich and RED BIKE and more:
http://www.philly.com/philly/entertainment/arts/caridad-svich-red-bike-simpatico-interact-svichfest-20180521.html
Philly Fringe Arts Blog interview with RED BIKE director Sam Tower: http://fringearts.com/2018/06/01/37353/
Broad Street Review podcast with RED BIKE director Sam Tower and actor Torez Mosley in Philadelphia: http://broadstreetreview.repradio.org/2018/06/06/simpatico-red-bike/
NBC Philadelphia interview with artistic director Allison Heishman and actor Torez Mosley with clips from RED BIKE: https://www.nbcphiladelphia.com/entertainment/the-scene/Red-Bike-At-Caplan-Studio-Theatre-through-June-24th_Philadelphia-485146621.html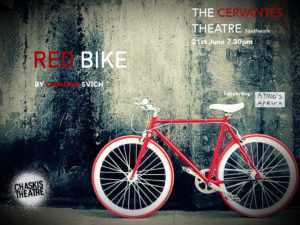 "Svich's RED BIKE is a luminous piece that tackles our common dreams and dangers with magic, poetry, and a sense of both possibility and loneliness. A beautiful work!" — Cristina Garcia (novelist, Dreaming in Cuban)
"What I admire about Svich's powerful work is the continual theatrical risks she takes, the poetic layering of too often repressed voices, and the kick in the ass at realism. RED BIKE is a beautiful ride." — Naomi Wallace (playwright)
"In RED BIKE, Svich sees poetry in the everyday, passion in politics, power in citizenship. In this play-monologue told from the perspective of pre-adolescent exploring a world in distress (closed businesses, poverty on the street), Svich channels Carson McCullers' Frankie in A MEMBER OF THE WEDDING — our unnamed protagonist observes astutely, accepts the parameters of their world, feels the possibilities of dreams. The bike is transportation and a dream mobile moving from one viewpoint to another, like a magic carpet. "Somebody gotta make red bikes somewhere," they muse, "so kids like me can dream." This dreamscape is haunting and gorgeous." — Martha Wade Steketee, freelance critic and dramaturg
"I often find Svich's mastery of the slippage between the everyday and the timeless blindsiding, but particularly so with Red Bike, which launches us into a dreamscape where greed stabs us in the heart with its fork, burns away our better parts, and reveals our deepest desires. The play enacts a relentless gaze into the unkindness and loss of our time while daring to dream and play and let in real joy. Red Bike is a soulful, masterfully carved project." — Emily Mendelsohn (director)
"RED BIKE is a uniquely timely play with a big imagination that explores the idea of class in modern American society through the eyes of a young child. Like the best of Caridad's work, I was taken by the poetic theatrical language that felt grounded and accessible. I especially love the fact that the play leaves a lot of room for interpretation (can be cast with any race or gender, and can be a solo show or divided amongst a number of actors)." — Evren Odcikin (director)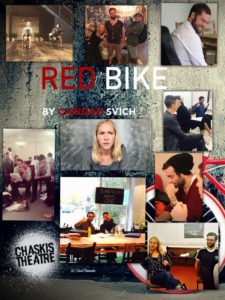 "RED BIKE is like a painting that catches your eye in a museum and makes you stop—because it is simultaneously familiar and unfamiliar, simple yet complex, accessible yet layered with meaning. This play by Caridad Svich is full of imagery and modernist poetry; it evokes for me the kind of American imagery of Norman Rockwell, William Carlos Williams, and Muriel Rukeyser. We learn what America is through the eyes of an eleven year old with a red bike, who could forget all their observations the moment they turn 12." — Heather Helinsky (dramaturge)
"Caridad Svich's RED BIKE is as far reaching as it is exhilarating. She takes us on a journey that bumps, jumps and spins through emotional corners and existential turns. Hold on for the ride." — Bryce Lease (Royal Holloway, University of London)
"Caridad Svich's Red Bike takes us on a beautiful ride across the landscapes of place and memory." — Jose Cruz Gonzalez (playwright)
"Caridad Svich's RED BIKE is a beautifully vulnerable freefall into the precious last days of childhood. Its blend of teen bravado and innocence lost put me in mind of a 21st century Harper Lee. In its London reading Chaskis Theatre evoked the wide-eyed joys and fears of the next generation of North Americans in Caridad's poetic drama with their trademark honesty and subtlety." — Ben SantaMaria (Playwright/director)
"RED BIKE invites us to take a ride into the unknown. With child-like wonder we encounter all the joys and terrors of being truly alive, as we fly past all that is settled and secure in our lives. It is a great exploration of the tension between fact and fiction, desire and fear, holding on and letting go – moment by moment by moment." — Elizabeth Hess (actor-writer and educator, NYU Tisch School for the Arts)
"In the few moments before a child crashes their red bike, we explore the socio-economic divide, capitalism, globalism, nationalism, gentrification, the racial tensions and immigration, our relationship with technology, the differences between rural and urban communities, and the gap between old and young – all through the eyes of an eleven year old child.  Red Bike is a rich, poetic, insightful and wonderfully theatrical text." — Jack Paterson (Co-Artistic Director, TheatreBoucheWHACKED!, Vancouver)